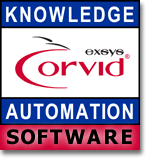 Exsys CORVID® Knowledge Automation Expert System Software
Exsys CORVID is our top level knowledge automation expert system development tool. It is a powerful, general purpose tool to build many types of systems for helping employees and customers solve problems, supporting and expanding the expertise of business advisors, or providing problem-solving answers throughout an enterprise. In CORVID, decision-making steps are described by building logic diagrams and rules that can precisely describe even the most complicated process. CORVID's powerful Inference Engine processes the rules to ask questions, interface to external data and display results. CORVID is a full feature development environment based on over two decades of creating expert system tools and responding to user needs, combined with the latest software and hardware technologies. Exsys CORVID is the standard for Java-based decision-making systems. CORVID allows domain knowledge "experts" to quickly and easily capture complex problem-solving "know-how" and develop and deploy powerful online advisory applications.
Read more about CORVID...